All In-Person Gatherings are Temporarily Suspended. Read Here for the latest.
Below reflects what we

were doing

before Nov. 19!
Yes, We Are Meeting!
We believe regathering is a necessary step as we balance the need to protect individuals in our community with our emotional, mental, and spiritual well-being.
Our own Province has stated that "The current situation [of isolation] is neither sustainable nor healthy, bringing its own significant costs and damage to individuals socially, emotionally and economically" (BC COVID-19 Go Forward Management Strategy).
In other words, we need to learn how to coexist with this virus for the foreseeable future, and that means in our corporate worship as well. Listen to our message "COVID & Church" for reflections on the importance of gathering together.
With that said, we encourage everyone, especially those at higher risk to the virus, to assess their risk-tolerance and think through any necessary precautions. Please scroll to the bottom for our safety protocols.
Please subscribe to our e-newsletter and our social media channels to make sure you have all the latest information about what's happening.
For other FAQ about our church under "normal" circumstances, visit our "New Here?" page.
So What's the Regather Plan?
We are currently hosting four in-person worship services plus an online livestream.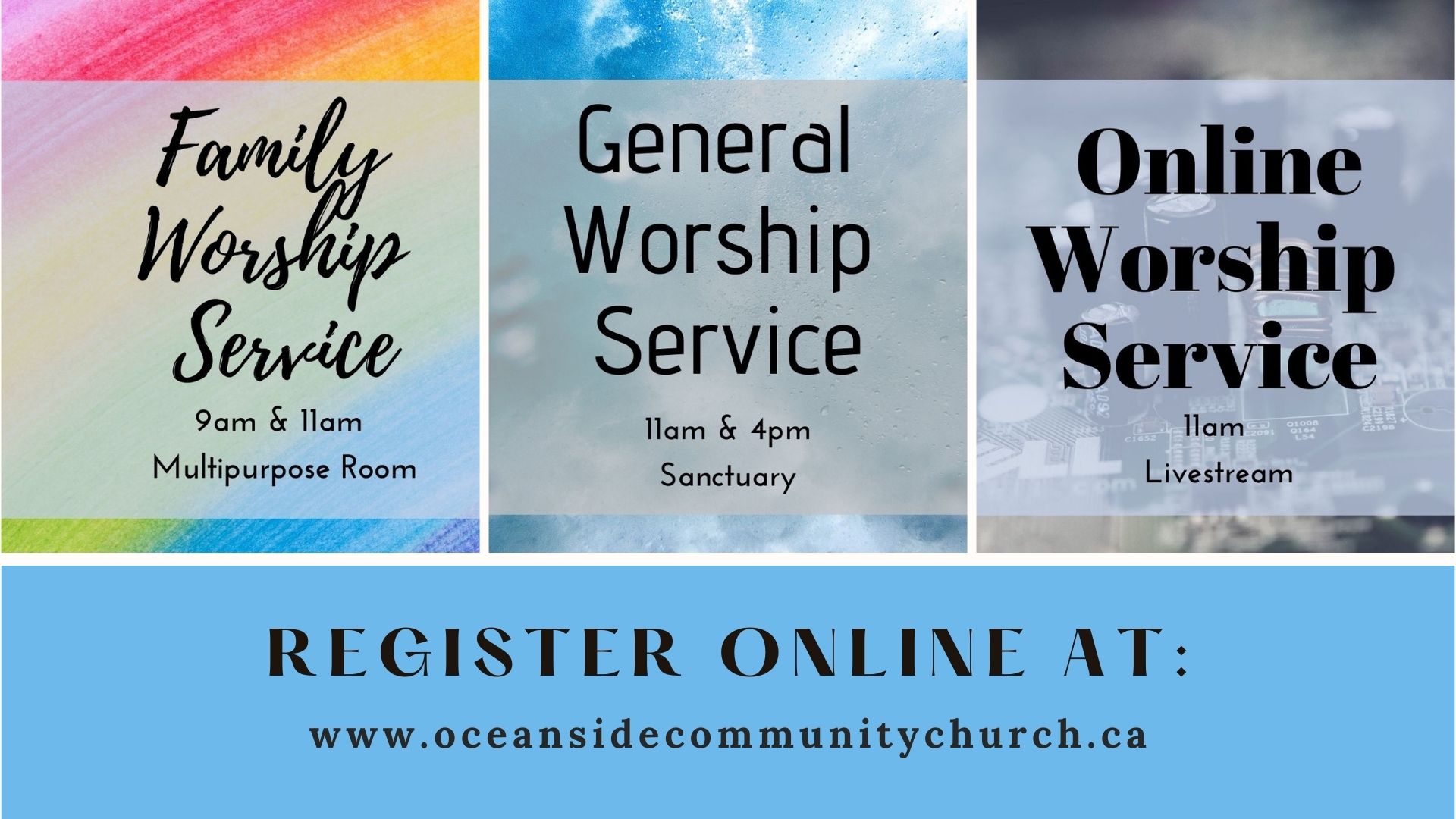 How Do I Register?
Due to Provincial guidelines, gatherings are limited in number so you must register ahead of time. We've made it as easy as possible for you—no creating accounts, logging in, or lengthy forms—just name, # of people, and your email! It only takes 5 seconds!
On Monday, we will seek to have the next two Sundays available to register for at a time so that you can plan ahead. Please keep track of your reservations to avoid registering twice!
Please don't hold back in registering or feel you need to "save spots" for others. If you want to worship with us, go ahead and register! We want to know what the demand is, and if we are consistently filling up we will add more services!
Here's how to register:
Enter your name/family name, # of people attending, and your email, and click submit
You will immediately receive a confirmation email. Please save this email until Sunday because . . .
If you need to cancel:
You will need to be on the same device you registered on in order to cancel
Click the "Return to Registration Form" in your email
Then click on the service you registered for and want to cancel (it should have a pink checkmark next to it)
Click "Remove Registration"
We understand things happen and you may need to cancel, and we especially want you to cancel if you're feeling sick or showing any symptoms of COVID-19. But we ask you please cancel your registration right away if you know you cannot make it so that others can register.
If you're having trouble with registration or cancelling your registration, please email your request to [email protected] so we can manually adjust your registration.
What if the Services are Full?
There will likely be cancellations, so please check the registration page regularly and on Sunday morning. If no spots are available, you can watch the livestream of our 11am service (see below).
What Should I Expect for Each Service?
Glad you asked! Below is a 3 minute video for each service as well as FAQ to give you a sense (and visual!) of what to expect when gathering amidst COVID-19.
*Please note: some outside doors may be left open to increase airflow/ventilation in our meeting spaces to keep you safe. Therefore, you may want to bring a coat or sweater!
**Following Provincial guidelines, we recommend you wear a mask while in the building out of love for others who are at higher risk. Masks are required when singing.
1) Family Worship Service – 9am and 11am – Multipurpose Room
What should I do before I arrive?
Register your entire family unit (and be sure to cancel if your plans change)
What should I do when I arrive?
Park in the front or back parking lot
Use the "special" designated family service entrance leading directly into the multipurpose room (on the west side of the building near the forest)
Be greeted, verify your registration, sanitize your hands, and grab a mask if you forgot one
Find your individual family's designated table
What do I need to know about the service?
This service is geared towards families with young kids under 10. It is focused on discipleship within the family unit.
There will be songs, table activities, a kids lesson, and an abbreviated version of the Sunday message from that week's speaker
Please stay in the multipurpose room except to use the washroom
You will be dismissed by tables and exit out the same door you came in
Watch below for some real stories from parents about the family service:
2) General Worship Service – 11am and 4pm – Sanctuary
What should I do before I arrive?
Register (and be sure to cancel if your plans change)
What should I do when I arrive?
Park in the front or side lot. There will only be one entrance (our main front entrance)
Be greeted, verify your registration, sanitize your hands, and grab a mask if you forgot one
Try to find a block of seats for your family unit or people in your "bubble" (see video above). For example, if coming as a family of 3, try to find a 3-seat row. If by yourself or with one other person, look for a one or two-seat section.
Please try not to move chairs as we have made sure they are appropriately distanced
What do I need to know about the service?
This is our most "normal" service so things will feel familiar to those who have been here before
You will exit on the opposite side of the sanctuary you came in and use the side (east) doors by the library to exit to the parking lot
Unfortunately, we are not encouraging mingling in the lobby before or after the service. We encourage you to fellowship outside after the service.
3) Online Service – 11am – Livestream
Our 11am indoor service will be livestreamed here on our website (click the "Watch Now" button at 11am) and Facebook page (and eventually on our YouTube page as well). This is for those who cannot gather in-person for health or other reasons. There will be live chat and we'll have an online host there to greet you.
Please send us a message or fill out a connection card to let us know you joined us online!
The livestream recording will be available anytime after the service on our website and other media channels.
What about Safety?
As we regather, we want to provide as safe an experience as possible for you.
Therefore, as a church we're asking everyone to respect the written safety protocols below, which are also explained in this video:
Here's what you can do:
Do not come if you're sick, have symptoms of COVID-19, or been exposed to anyone with COVID-19 or symptoms of COVID-19
Wash or sanitize your hands immediately upon entering/exiting the building
Practice social distancing of 2 meters at all times (no handshakes, hugs)
We recommend you wear a mask while in the building (and require it for singing and for volunteers)
Here's what we'll do as a church:
Require online pre-registration so we don't exceed 49 people. Also, if we discover someone was sick at a service, we can immediately contact all who were present.
Create as much of a "touchless" experience as possible
Frequently clean "high touch" areas such as doors, chairs, mics, washrooms – including between services
Have at least one hour between services to ensure proper cleaning and "clearing" the air
Keep services under an hour as we know length of exposure to the virus is a factor
Create physical barriers that divide our building into two separate spaces when services are taking place simulataneously (like at 11am). Each side has its own separate entrance/exit and washroom so there is no interaction between the two groups.
Stagger dismissals and move all fellowship outside
For more specific information, please refer to the "What to Expect" videos for each individual service above or on our YouTube page.
We hope these safety measures will encourage you to go ahead and register for one of our 4 services. We can't wait to worship with you!
How Can I Continue to Give and Support this Work?
An on-site giving box will be available at every service for those wishing to give by cash or cheque. And of course you can use any of our electronic giving options listed here.
Thanks for your continued support in helping us bless and reach our community!